Fantasies of having a home office and walk-in-closet can be crushed by the cramped realities of apartment living. But, don't give up! You can keep that spare room dream alive if you learn to harness the power of the divider. Here are a variety of inventive designs that you easily can make yourself—no board approval required.
Old Door Room Divider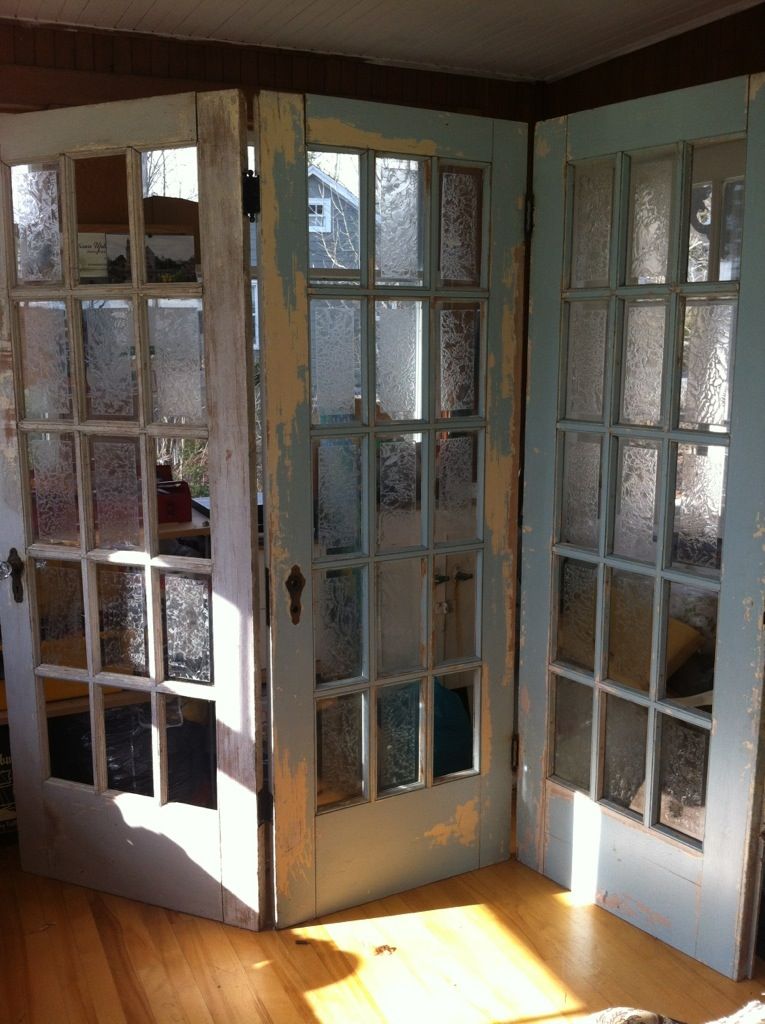 One person's discarded old door is another person's room divider. You'll find doors-o-plenty at salvage yards, garage sales, flea markets and dumpsters. Touch them up with a light sanding and some paint (if necessary), hinge them together, and presto-changeo—a swanky room divider. Consider mixing different styles for more interest.
Hangers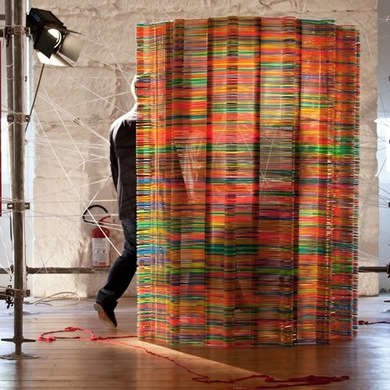 Unless you have 2,000 multi-colored Ikea clothes hangers sitting around, this room divider will be a stretch to make (the Chromatic Screen was created by LikeArchitects for the 2012 Oporto Show). Consider some other creative ways to reuse plastic hangers to create an interesting wall-hanging sculpture and artfully define your space.
Shipping Pallets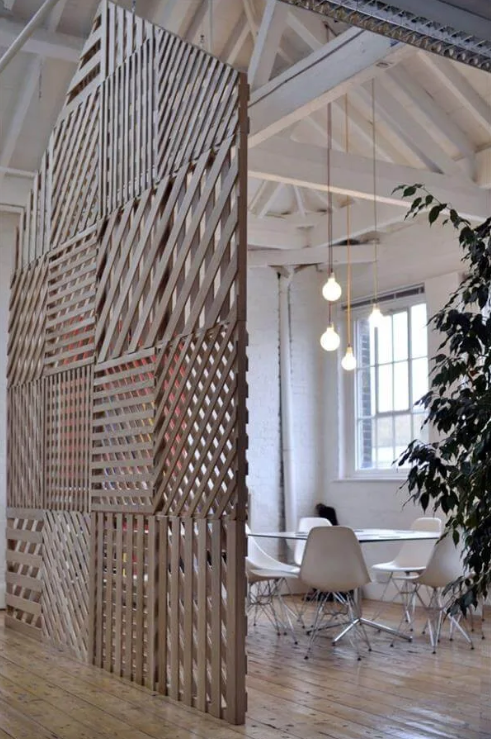 We've seen shipping pallets turned into some amazing things, so no surprise to see them reconstituted into a semi-private room divider. Same prep rules for old doors apply here: sand them down and hinge them together. Consider using them as permanent partitions too, providing privacy while promoting light and air flow.
Vinyl LPs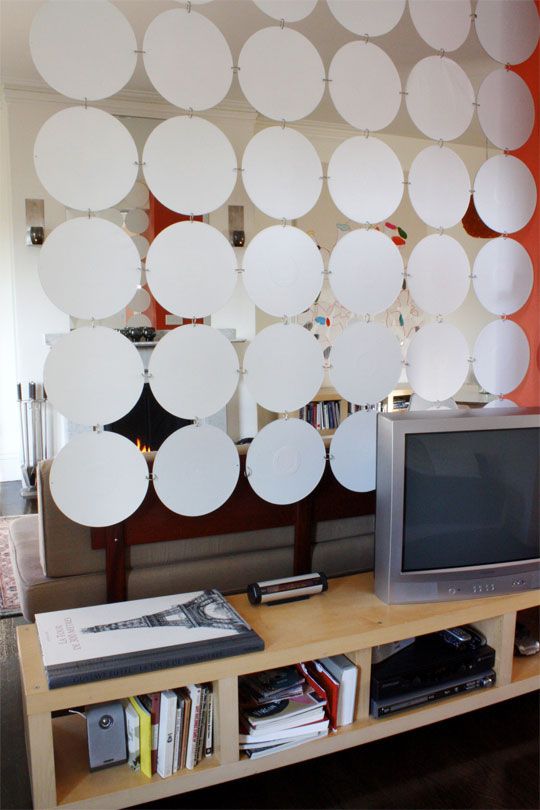 Turn down the volume and listen up! Gather your old vinyl records, drill four holes in each, and attach them with either metal rings or string to create this ceiling suspended divider. You can paint the LPs or cover them in contact paper for a more unified, mod look. Leave them as is to add a Hard Rock Cafe vibe to your place. Rock on!
Curtains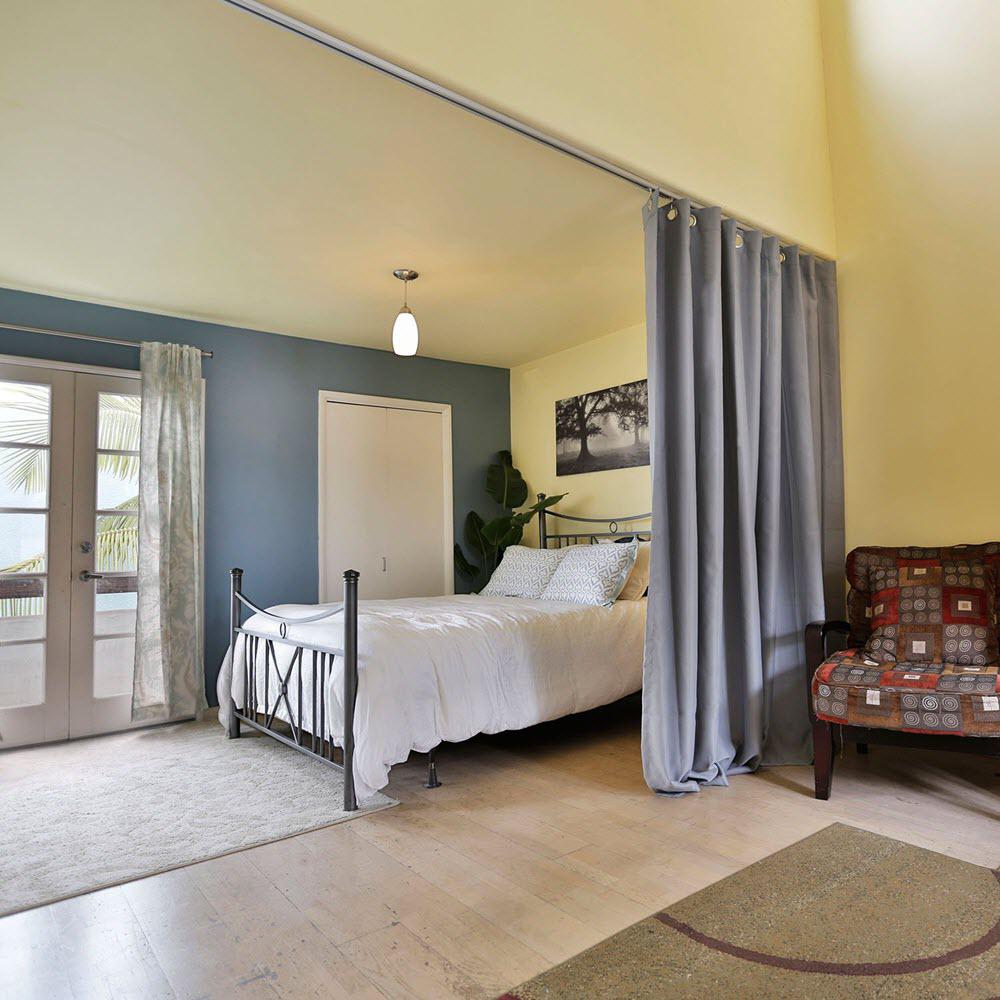 Window treatments are designed to keep people from peeking into your house or apartment, so why not hang them for indoor privacy? A pole or curtain rod suspended from the ceiling, some rings or hooks, and drapery panels are all you need to create some drama and division in your space. Best of all, you can easily close and open your curtains as needed.
Slatted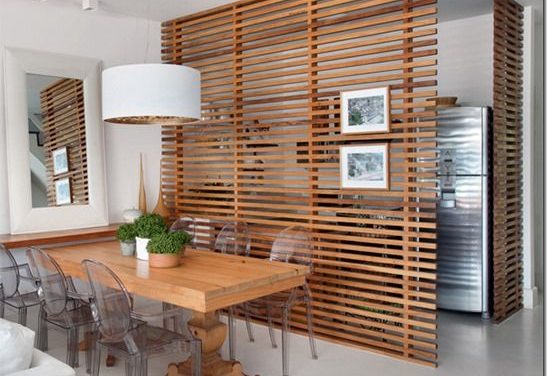 This room divider creates definition without obstructing views and light—an important consideration if you have a small, dimly lit space. You can make it easily enough with some framing lumber, wood screws, finishing nails, and paint. Build it ceiling height to anchor securely.
Windows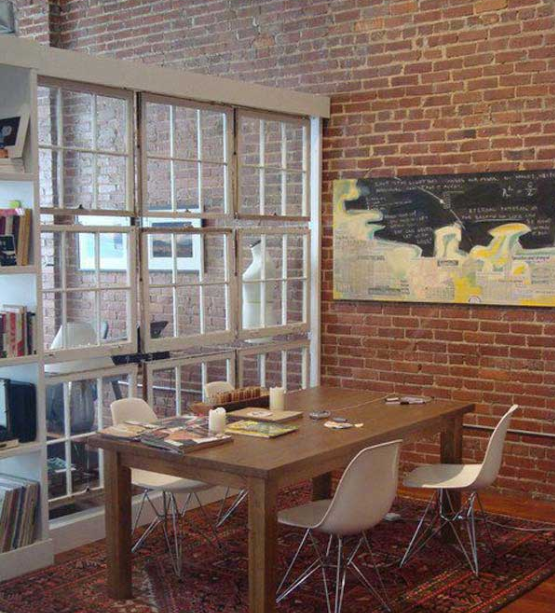 Just like old doors, salvaged windows can make an artistic room divider. This one is made from nine-matching sashes, but you can create yours with different sized units and mis-matched designs. If you seek some privacy, just add a drape—they're windows after all.
Chalkboard Paint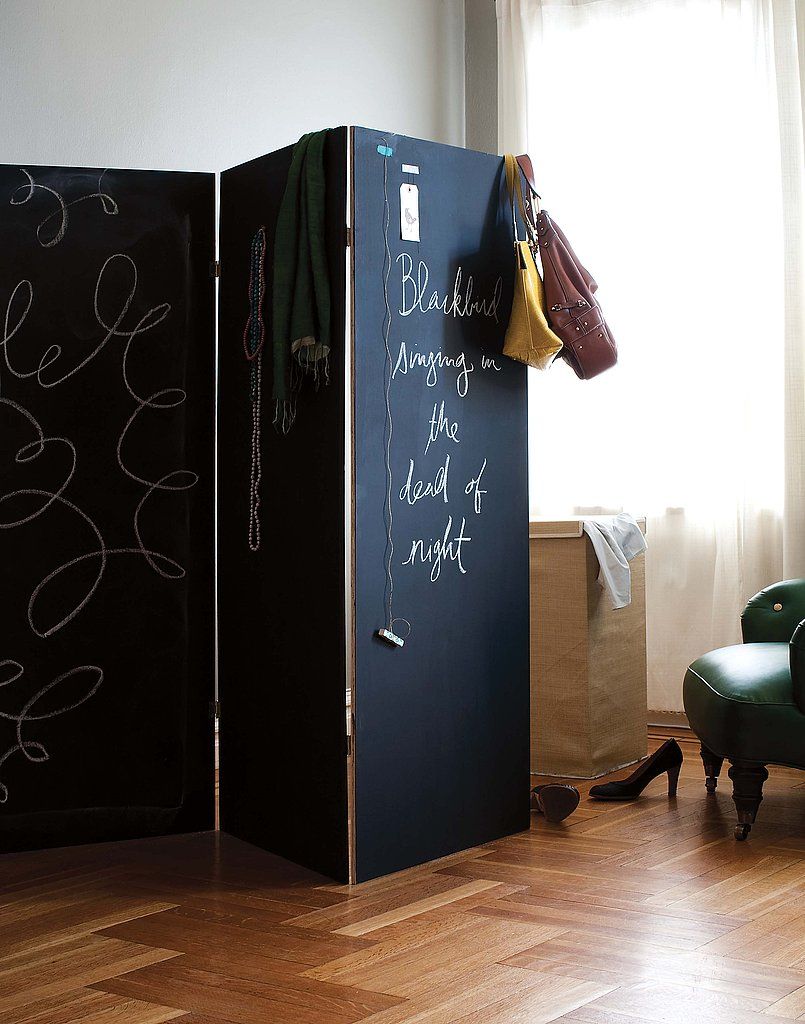 Offering a playful, practical appeal, chalkboard paint lets you create a room divider that can also take notes. This divider is simple to make: just buy three pieces of cut plywood and hinges. Score some colored sidewalk chalk and you can change the look of it daily. Consider any number of chalkboard paint colors to make it even more of a stand-out!
Bookshelf
The classic bookshelf can be one of the simplest room divers to make. The key to creating your desired look is where you place it, how you arrange items in it (create blocks of similarly sized and colored objects to de-clutter it) and whether it has a finished or unfinished back. Nothing more required than the ability to build one that arrives flat-shipped and ready to assemble.
Rope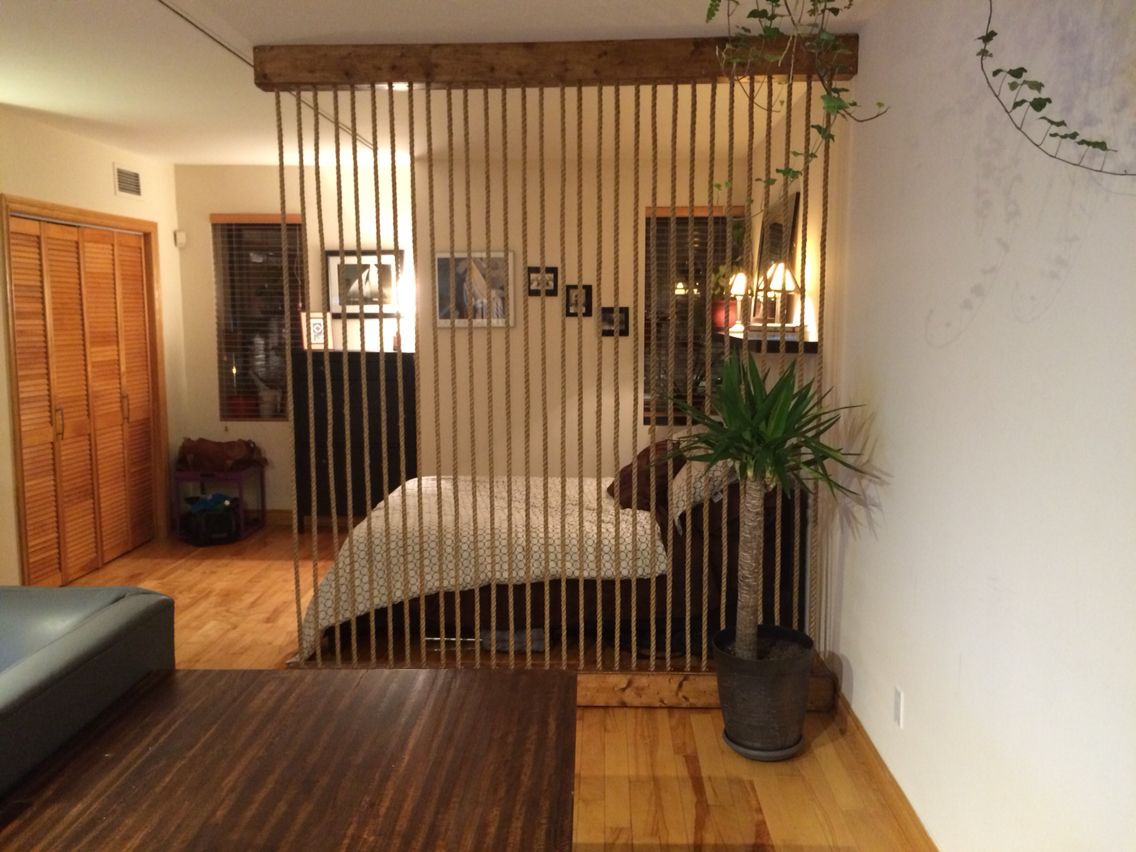 This nautical look is ideal in a location that you'd like to keep open and airy. The rope allows for light and sound to permeate, but create delineated areas in an open living space.
Green Wall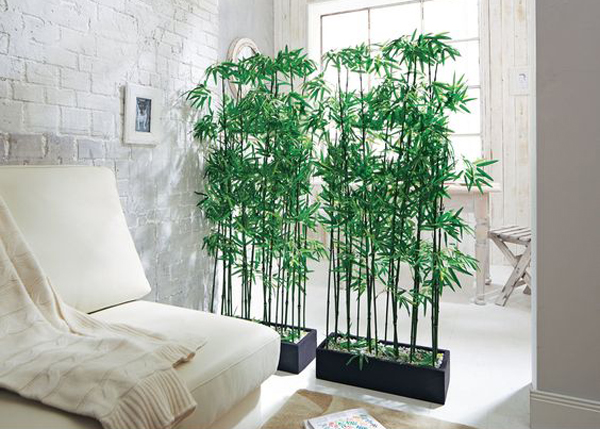 A shelving system of row of green plants can do double duty in your living space by dividing the area while simultaneously bringing life to not just one, but two rooms.
Legos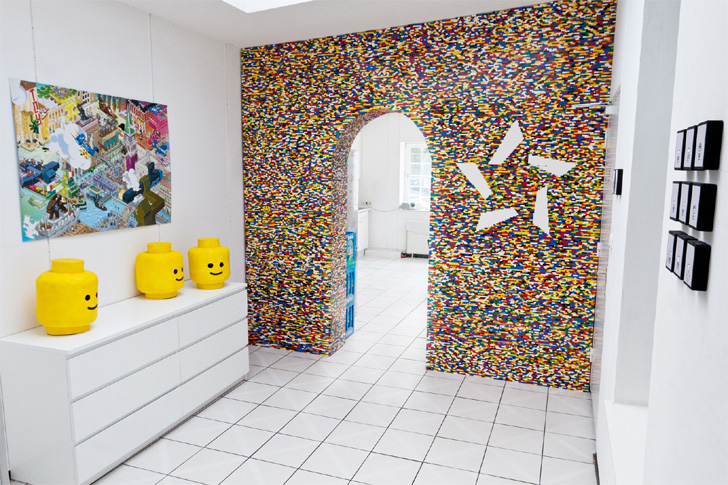 Almost too good to be true, the colorful room dividers seen here are comprised of 55,000 Legos. A support system of bookshelves ensure the walls won't come crashing down if bumped into.
Natural Trees
Secured to a base, sturdy fallen trees and limbs can enact a natural room divider to soften a modern space or blend with a rustic room. Attach more densely to yield more privacy between spaces.
Twinkling Branches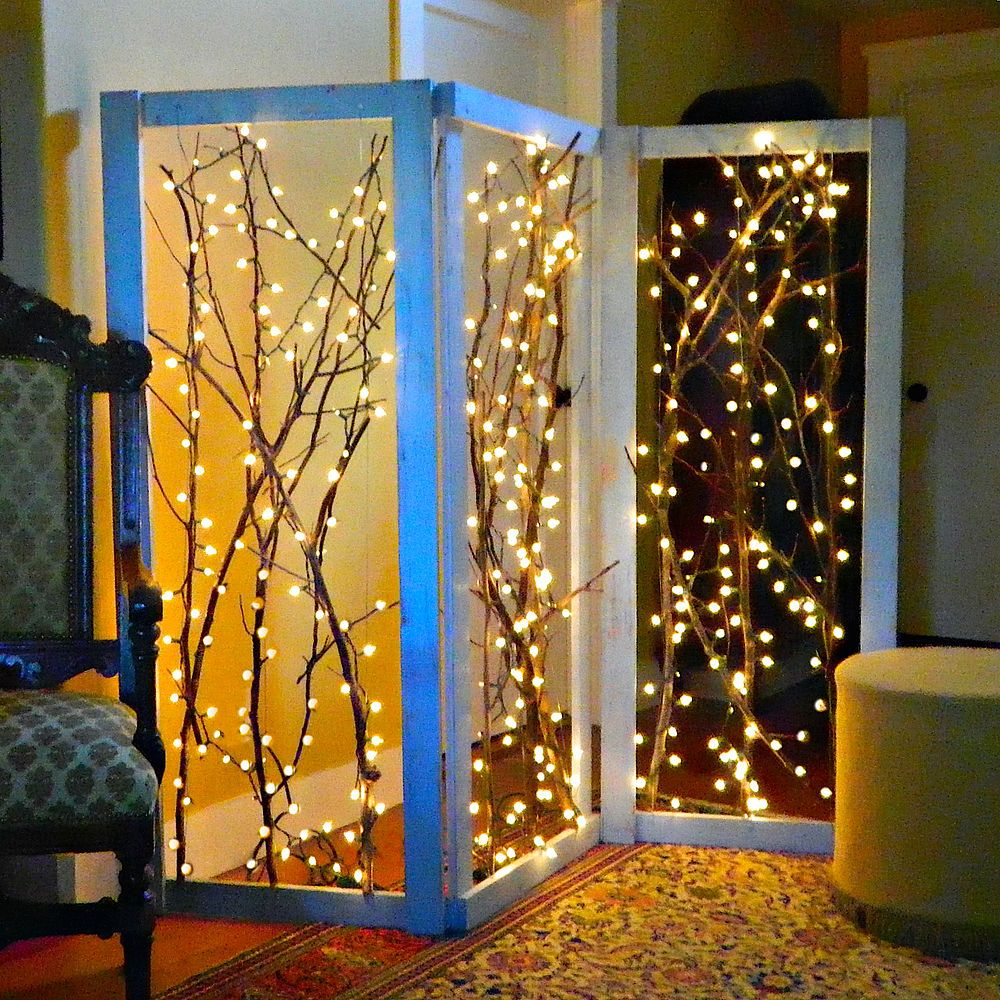 This room divider separates and lends a warm atmosphere to the space. A simple DIY project even a beginner can handle, it requires only some basic lumber, some screws and wire, and a drill. Collect some twigs from the park or backyard and get those Christmas tree lights out. You'll be basking in its glow by dinnertime.
Hanging Out
This modern, chic look can be achieved simply and inexpensively with a DIY hanging hardboard divider. You can customize the color and pattern for your space, and make it exactly the size you need. Since it hangs, it requires no footprint. Reminiscent of the 70's beaded curtain, it will separate your space with big style.
Hardworking Headboard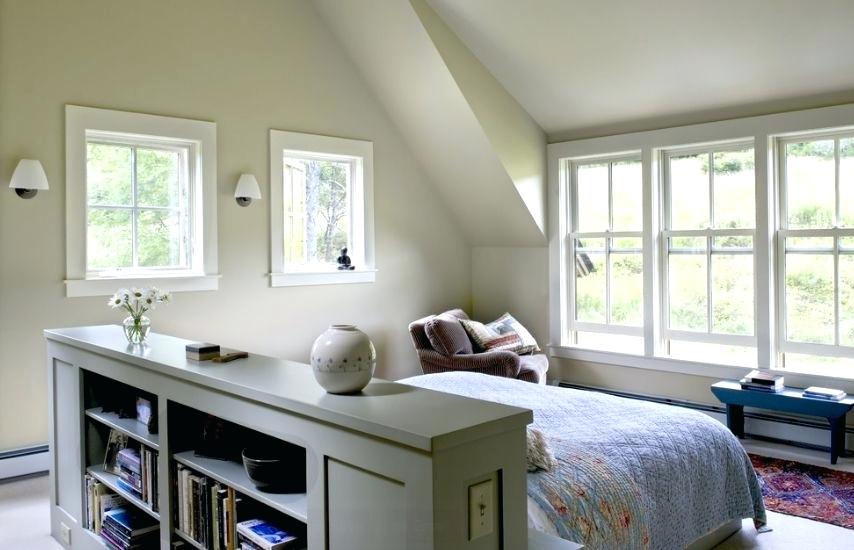 Small spaces require creative furniture placement. With a bed oriented the right way, a beefed up headboard can double as a room divider. Choose something opaque to let light in, or use something more solid for extra privacy.
Written by Faith Towers for BobVila.com